Janet Lee has been a nurse for 30 years and is Children's Critical Care Practitioner at the Royal Alexandra Children's Hospital in Brighton.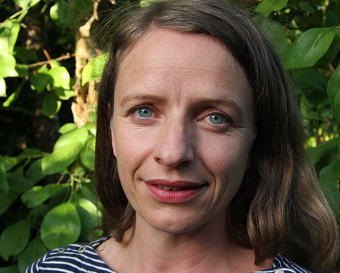 Jo has been working as a musician and project manager in healthcare and in the community since 2002. She created the Wishing Well programme in 2013, developing it from a pilot project, to a county-wide programme bringing live music-making to the bedsides of thousands of people in hospital. She co-founded Wishing Well Music for Health CIC in 2019.
A lifelong musician, she is committed to using music to co-create healthcare environments to help everybodyu thrive and feel connected.
"Not everybody identifies as a musician, but we are all musical. Much of our work is about supporting people to locate and express that innate musicality so that they can feel the joy that comes from making music together"
Jo lives in the South Downs, plays the accordion and is one third of acoustic trio Fell.
The scariest thing she has ever done was taking part in TEDxBrighton 2015 where she talked about how music helps people in hospital to regain a sense of control.
Marie has nearly twenty years' experience in the not-for-profit sector, beginning her career in front line homeless services before holding posts in communications management at the Down's Syndrome Association and St Mungo's.  Being a saxophonist and choir director in her previous career, she then founded The Choir with No Name, an organisation running choirs for homeless people, growing it from scratch to establishing a high profile presence in numerous cities across the UK.  She lives in Hove and remains a passionate advocate of music's ability to improve health and wellbeing and to make life a more joyful experience.

Our Musicians
Our Musicians in Healthcare are professional facilitators who work across a wide range of community, health and educational settings. They are composers, performers, producers; multi-instrumentalists, vocalists and technicians.
They have experience working in a huge range of community and educational settings, engaging people of all ages in creative music making, using music as a tool for self expression and personal change. They are brought together in the Wishing Well programme by their passion for spontaneous "in the moment" improvisation to empower people and to connect through a shared musical experience.